Editor Profiles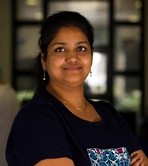 Akila Sridhar obtained her Ph.D from the University of Aberdeen, UK (funded by Cancer Research UK), has a further three years postdoctoral experience as an EMBO Long-term Fellow at Instituto Gulbenkian de Ciência (IGC), Portugal. Her interests cover biochemistry, molecular and mechanistic biology. After over eleven years of research experience, mainly as a molecular biologist, working with different model systems, she joined the BMC Series as a Locum Editor in September 2018. She has been the Editor of BMC Pharmacology and Toxicology since April 2019 and is based in Springer Nature's London office.
Anna studied Biology, with an emphasis on Cell/Molecular/Developmental Biology at the University of Crete, Greece. During her PhD in Queen Mary, University of London she worked on the knockout of Flavin-containing monoxygenase 5 (Fmo5) gene of the mouse, which eventually led to the identification of Fmo5 as a regulator of metabolic aging. As a Postdoc at the Universities of Ioannina, Greece and the University of Cambridge, UK she worked on the role of cell-surface receptors (Wnt/Notch/FGF4) and adherens junctions in the fate specification of mES cells and mES-derived multipotent cardiac progenitors. She also contributed in the development of an ES-cell-based expression and reporting system for the selection of antibodies affecting cell-surface receptor signalling and controlling stem cell differentiation. Anna joined the BMC Series as a Manuscript Editor in March 2019 and is based in Springer Nature's London office.
Catherine Sherwin
Clinical Pharmacology
Dr. Catherine Sherwin is currently an Associate Professor and Chief of the Division of Clinical Pharmacology, Department of Pediatrics, at the University of Utah School of Medicine. She earned her PhD at the University of Otago, Dunedin School of Medicine, New Zealand in Paediatric Clinical Pharmacology in 2007. Dr. Sherwin has expertise and experience in the development of quantitative pharmacometric models for special populations such as neonates, children and pregnant women. Her projects have included basic studies using cell-line and animal models, analytical method development and clinical trials, all with a distinct emphasis on clinical pharmacology and toxicology. Dr. Sherwin joined the Editorial Board as an Associate Editor in 2013 and became a Section Editor for Clinical Pharmacology Section 2015.
Giorgio Palù
Drug design, discovery and delivery
Giorgio Palù has obtained his MD from the University of Padova, Italy, with a further Specialty Diplomas in Oncology and in General Pathology from the University of Pavia. He was a Postdoctoral fellow and Research associate first in Institut Bordet, Université Libre in Brussels and then at Chester Beatty Research Institute (London University, 1977-80) and Department of Pharmacology, Yale University,1980). He is currently a Full Professor and Chair of Microbiology and Virology, School of Medicine, Department of Molecular Medicine, University of Padova, Italy. His research interest includes diagnostic virology, molecular characterization and drug discovery. He joined BMC Pharmacology and Toxicology as an Associate Editor in 2014. He currently is the Section Editor of the Drug design, discovery and delivery n within the Journal.
Announcement

As a result of the significant disruption that is being caused by the COVID-19 pandemic we are very aware that many researchers will have difficulty in meeting the timelines associated with our peer review process during normal times. Please do let us know if you need additional time. Our systems will continue to remind you of the original timelines but we intend to be highly flexible at this time.
Follow