Meeting abstract

Open Access
Discovery of IWP-051, a Novel Orally Bioavailable Soluble Guanylate Cyclase Stimulator with Sustained and Dose-Dependent Hemodynamic Effects
BMC Pharmacology and Toxicology
2015
16 (Suppl 1) :A59
Published: 2 September 2015
Nitric Oxide
Plasma Protein Binding
Metabolic Stability
Soluble Guanylate Cyclase
Early Lead
Soluble guanylate cyclase (sGC) stimulators are small molecule agonists of sGC that are heme-dependent, nitric oxide (NO)-independent, and act in synergy with NO. Herein, we describe a novel class of pyrazole-pyrimidine sGC stimulators and their evolution from an early lead to IWP-051 by optimizing SAR for in vitro potency, pharmacokinetic parameters, and off-target activity.
IWP-051 is a potent sGC stimulator with >99% plasma protein binding, high metabolic stability, high permeability, and no efflux in a Caco-2 model of intestinal absorption. In rat PK studies, IWP-051 had low clearance and a low volume of distribution. Its elimination half-life in rats was >4 hrs. IWP-051 exhibited dose-related oral exposure, its Tmax was >3 hrs in rats, and its oral bioavailability was >40% in mice, rats, and dogs. In normotensive rats, oral doses of IWP-051 ranging from 1 to 100 mg/kg decreased mean arterial pressure in a sustained and dose-responsive manner. Distinct features of the pharmacologic profile of IWP-051, including metabolic stability, protracted gastrointestinal absorption, and sustained effect on hemodynamics upon oral dosing in rats, make IWP-051 an exciting pharmacologic advancement in the sGC stimulator class.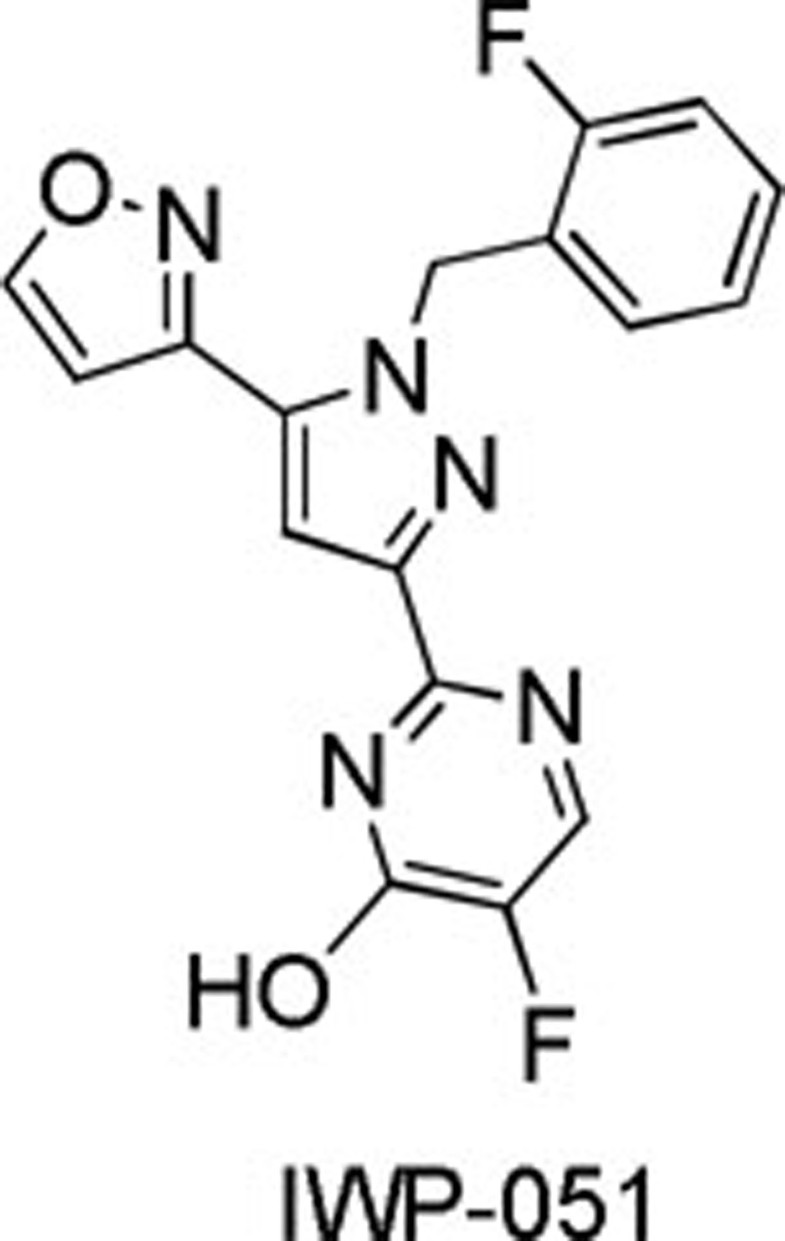 (1)
Ironwood Pharmaceuticals Inc., Cambridge, MA, USA
© Nakai et al. 2015
This article is published under license to BioMed Central Ltd. This is an Open Access article distributed under the terms of the Creative Commons Attribution License (http://creativecommons.org/licenses/by/4.0), which permits unrestricted use, distribution, and reproduction in any medium, provided the original work is properly cited. The Creative Commons Public Domain Dedication waiver (http://creativecommons.org/publicdomain/zero/1.0/) applies to the data made available in this article, unless otherwise stated.