Research article

Open Access

Open Peer Review
This article has Open Peer Review reports available.
Drug-drug interactions and QT prolongation as a commonly assessed cardiac effect - comprehensive overview of clinical trials
BMC Pharmacology and Toxicology
BMC series – open, inclusive and trusted
2016
17:12
Received: 19 November 2015
Accepted: 15 February 2016
Published: 10 March 2016
Abstract
Background
Proarrhythmia assessment is one of the major concerns for regulatory bodies and pharmaceutical industry. ICH guidelines recommending preclinical tests have been established in attempt to eliminate the risk of drug-induced arrhythmias. However, in the clinic, arrhythmia occurrence is determined not only by the inherent property of a drug to block ion currents and disturb electrophysiological activity of cardiac myocytes, but also by many other factors modifying individual risk of QT prolongation and subsequent proarrhythmia propensity. One of those is drug-drug interactions. Since polypharmacy is a common practice in clinical settings, it can be anticipated that there is a relatively high risk that the patient will receive at least two drugs mutually modifying their proarrhythmic potential and resulting either in triggering the occurrence or mitigating the clinical symptoms. The mechanism can be observed either directly at the pharmacodynamic level by competing for the molecular targets, or indirectly by modifying the physiological parameters, or at the pharmacokinetic level by alteration of the active concentration of the victim drug.
Methods
This publication provides an overview of published clinical studies on pharmacokinetic and/or pharmacodynamic drug-drug interactions in humans and their electrophysiological consequences (QT interval modification). Databases of PubMed and Scopus were searched and combinations of the following keywords were used for Title, Abstract and Keywords fields: interaction, coadministration, combination, DDI and electrocardiographic, QTc interval, ECG. Only human studies were included. Over 4500 publications were retrieved and underwent preliminary assessment to identify papers accordant with the topic of this review. 76 papers reporting results for 96 drug combinations were found and analyzed.
Results
The results show the tremendous variability of drug-drug interaction effects, which makes one aware of complexity of the problem, and suggests the need for assessment of an additional risk factors and careful ECG monitoring before administration of drugs with anticipated QT prolongation.
Conclusions
DDIs can play significant roles in drugs' cardiac safety, as evidenced by the provided examples. Assessment of the pharmacodynamic effects of the drug interactions is more challenging as compared to the pharmacokinetic due to the significant diversity in the endpoints which should be analyzed specifically for various clinical effects. Nevertheless, PD components of DDIs should be accounted for as PK changes alone do not allow to fully explain the electrophysiological effects in clinic situations.
Keywords
QT prolongation
Drug-drug interactions
Clinical trials
Background
Cardiovascular toxicity remains one of the leading causes of early and late attrition during the drug development process as well as a major contributor to withdrawals of marketed drugs [1–3]. Cardiac safety concerns arise from a variety of side effects of the drugs including, but not limited to, direct myocyte injury, activation of apoptotic and necrotic changes, alternation of ion homeostasis or the signaling pathways or influence on the transcription factors i.e. kinase inhibitors [4, 5]. Though, proarrhythmia represents one of the most frequent cardiac safety liabilities responsible for cardiotoxic effect especially in the late stage of clinical development and during post-marketing surveillance [6]. The most important drug-induced form of proarrhythmia is acquired long QT syndrome (LQTS) and resulting potentially fatal polymorphic ventricular tachycardia termed torsades de pointes (TdP).
Tremendous progress has been made in research on and understanding of mechanisms underlying QT prolongation and TdP risk since the 1920s when quinidine syncope was first recognized. Quinidine was introduced to the practice as an antiarrhythmic for patients with atrial fibrillation [7]. Soon thereafter reports of sudden, occasionally fatal syncopal episodes occurring within therapy initiation period began to appear. It was not until the advent of online electrocardiographic monitoring that the ventricular tachyarrhythmia was described as the cause of "quinidine syncope" phenomenon in 1964 by Seltzer and Wray [8]. Characteristic for quinidine polymorphic arrhythmia was later observed by Dessertenne in a patient with atrio-ventricular block [9]. To describe his observations, twisting QRS complex around the isoelectric line on the surface ECG, he coined the term "torsades de pointes". Interestingly, both of these early reports neither highlighted nor commented on prolonged QT interval, which was then observed in patients who were reported in the late 1970s to have developed TdP. Since that time much effort has been invested in elucidation of mechanism of drug-induced TdP and despite some reservations QT prolongation is currently recognized as an underlying cause of development of the TdP arrhythmia and thus major focus of drug development and a significant concern for regulatory agencies [10]. It is well known that QT prolongation is not directly correlated with TdP occurrence and ventricular fibrillation. Regardless of the reservations to the predictability of this marker and growing awareness of its imperfection, QT interval prolongation is still most commonly used in vivo surrogate of the proarrhythmic potency of drugs (ICH E14 guidelines). Prolongation of the repolarization process, reflected by long QT in ECG, can result from a net reduction in the outward current due to either decreased outward potassium currents (IKr or IKs), or activation of a delayed sodium current, or an increased inward calcium current [11–14]. However, most cases of prolonged repolarization related to drug exposure can be traced to the inhibition of hERG (human ether-a-go-go-related gene) potassium channel regulating major repolarizing current in the heart, IKr [15–17]. Therefore during non-clinical phase of drug development the concentration of the tested substance producing half-maximal block of the hERG potassium current (IC50) is an in vitro surrogate for proarrhythmic propensity of a compound. The class III antiarrhythmics, for which hERG inhibition underlie in part therapeutic mechanism of action, are found to carry the highest risk of TdP, estimated incidence in general population of 5 % [18]. Yet, inherent property of hERG channel is the ability to bind and interact with diverse chemical structures that encompass several therapeutic classes, including, apart from antiarrhythmics, antibiotics, prokinetics, antipsychotics and antihistamines [19, 20]. The TdP risk for non-cardiac drugs is generally estimated to be in the range of < 0.01 % up to 0.1 %, however in patients certain drugs e.g. dofetilide (anthiarrhythmic) in high doses it can be as high as 10.5 % [21]. Moreover, most of these drugs which are used for the symptomatic treatment of rather benign conditions, are more frequently prescribed with hardly any ECG monitoring [22, 23]. Upon the results of the survey conducted by De Ponti et al. it is estimated that up to 3 % of patients in the UK and Italy are prescribed at least one non-cardiac drug with proarrhythmic propensity supported by published data and official warnings about QT prolongation or TdP occurrence [24]. Estimates made by Curtis and colleagues [25] are even higher. Authors conducted retrospective study and analyzed QT-prolonging drugs prescribed with the use of outpatient prescription claims database of the largest pharmaceutical benefit in the United States and concluded that over 1 million out of about 5 million patients cohort use at least 1 QT prolonging medication (~23 % of patients). This can explain a great deal of attention and significant efforts put into the understanding, detailed screening and governing of the potential proarrhythmic potency of novel drugs by the regulatory (ICH S7 and ICH E14 guidelines), academia and industry worldwide (ICH S7 E14 guidelines).
Additionally, the problem of acquired QT prolongation and TdP is further complicated in patients undergoing polytherapy. Since polypharmacy is a common practice in clinical settings, it can be anticipated that there is a relatively high risk that a patient will receive at least two drugs mutually modifying their proarrhythmic potential and resulting in clinical symptoms or mitigating symptoms connected with one of them [22, 26–29]. In the study by Curtis and colleagues in a cohort of 1.1 million patients the concomitant use of 2 QT prolonging agents was identified in 9.4 % of patients, and the use of ≥3 agents in 0.7 % of patients. Indeed, clinical cases of TdP are frequently related to polypharmacy and drug-drug interaction resulting in QT interval prolongation [25] The results of retrospective analysis of FDA AERS (Food and Drug Administration Adverse Event Reporting System) database by Shaffer et al., where concomitant risk factors for QT prolongation and TdP occurring in association with administration of macrolide antimicrobials were examined, pointed out that co-administration of drug prolonging QT interval accounts for 50 % of registered TdP reports [30].
In populations receiving multiple medications potential drug-drug interactions (DDIs) are of major concern, therefore the topic has received much attention and some formal approaches have been established. However, they concern only pharmacokinetic (PK) interactions occurring due to alterations in drug metabolism or disposition, while assessment of pharmacodynamic (PD) interactions is hardly possible due to character of the effects of such endpoints which are serious adverse effects rather than measurable changes in drug concentration [
31
]. Although the incidence of clinically significant PD interactions is much lower than that of PK interactions, they should not be underestimated since they can be of great importance for patient safety [
32
]. In case of TdP arrhythmia QT interval prolongation can be used as a relatively safe indicator of PD drug interaction result, though a number of drug combinations possibly implicated in QT prolongation is practically infinite and it is infeasible to comprehensively assess all of them during the drug development process and clinical trials. Additionally significant diversity in the study design, clinical endpoints analysis, studied populations and other factors make the PD component of DDIs challenging to analyze. Terfenadine can be used as an example due to multiple available studies clearly showing wide range of clinical endpoints, in this case QT prolongation. Figure
1
presents results of five studies where terfenadine was given either alone or concomitantly with different CYP 3A4 inhibitors. One can note obvious QT prolongation which on one hand side proves the role of DDI, yet at the same time significant variability in the effect for both scenarios (with and without inhibitor) can be also seen.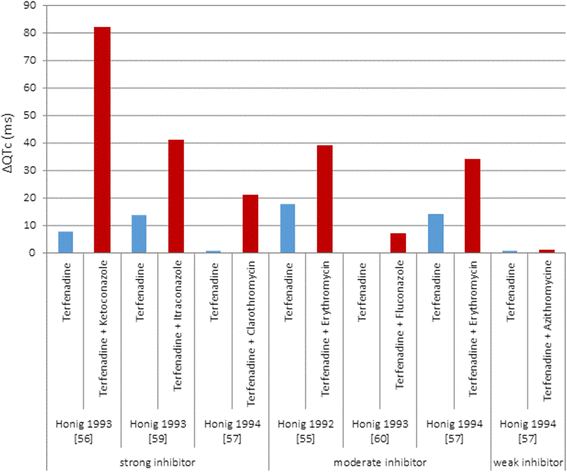 The aim of the study
This publication provides an overview of published clinical studies results on pharmacokinetic and/or pharmacodynamic drug-drug interactions in humans (either healthy volunteers or patients) and their electrophysiological consequences manifested as change in the QT/QTc interval. The main aim was to present the role and potential clinical relevance of drug combinations for cardiac safety as evidenced in clinical trials. We aimed in presenting of the diversity of parameters influencing the electrophysiological effects of drug combinations in clinic situations; the specific statistical analysis was neither planned nor conducted.
Methods
Databases of PubMed and Scopus were searched through November 2014 without time limit. Combinations of the following keywords were used for Title, Abstract and Keywords fields: interaction, coadministration, combination, DDI and electrocardiographic, QTc interval, ECG. Only human studies were included. Over 4500 publications were retrieved and underwent preliminary assessment to identify papers accordant with the topic of this review. Inclusion criteria met only articles describing clinical studies where the effects of two or more agents given concomitantly on the QT interval length were analyzed. All case study reports were excluded from the analysis. Reference lists from the eligible papers were the additional source of publications included in this review. Studies on combinations of antiarrhythmic drugs where their effect on QT interval was not of primary concern, and pharmacokinetics of involved compounds was out of their scope, were considered as not eligible for this review. Finally, we found 76 publications to be eligible for this review. They were divided into several groups, primarily according to the compound defined as victim drug in a clinical trial.
The results of the presented literature review are divided into two parts: 1) general description of drug classes studied for the effects of their combinations with metabolic inhibitors or other agents which might be given concomitantly; and 2) tabularized description of studies protocols, participants, PK and/or PD changes. The latter is provided as the Additional file 1: Table S1.
Discussion and conclusions
Fatal in consequences terfenadine – ketoconazole case with cardiac related deaths played a significant role in recognition of the clinical role of drug-drug interactions and their desirable and undesirable consequences [145]. The pharmacokinetic DDI studies are now part of the drug screening procedure for multiple reasons which include, but are not limited to, assessment of necessity of a dosage adjustment, need for additional therapeutic monitoring, or due to the safety reasons when certain drugs should be contraindicated for concomitant use for the sake of patient safety.
The available guidance focuses on the PK drug interaction studies where the blood or tissue concentrations are modified by the disruption of drug's absorption, distribution, metabolism, and excretion processes triggered by the interacting compounds [
146
]. It was not assessed in the current study as it needs separate, specifically designed analysis but it is not surprising that majority of the above mentioned drugs are metabolized by CYP 3A4 and CYP 2D6 [
147
]. It opens the possibility to undergo the metabolic interaction (inhibition or induction) resulting in the clinical effect modification. Therefore this can be considered as a drug related risk factor, similarly to the drug transporters (e.g. P-gp) affinity, protein binding, high lipophilicity and consequent significant heart tissue penetration [
148
–
150
]. Assessment of the pharmacodynamic effects of the drug interactions is much more challenging due to the significant diversity in the endpoints which should be analyzed depending on the clinical effect. Pharmacokinetic parameters modification including AUC and C
max
are relatively easy to assess as compared with the pharmacodynamic endpoints for which the clinical surrogates are often imperfect if they exist at all. Another challenge comes with the results variability, which results from exposure variability and factors specific for the observed parameter, so the interacting drugs add additional level of complexity to already complex situation. Analyzing trials' results for evaluation of DDIs role in proarrhthmia risk brings additional hurdles. This is mainly due to the differences in study design e.g. single dose or multiple dose protocol, study duration, population age, sex, or ethnicity and methods of evaluation of raw data used to generate reported endpoints. First, there are several methods for QT interval length correction for heart rate, Bazzet, Fridericia or individual or population-based, just to mention those most commonly used, without individual data it is impossible to compare the results between the studies [
151
]. Second, the reported endpoint can be substantially influenced by the applied method of comparison. Drug-triggered QTc changes may be referred to placebo control or to the baseline QT values. Baseline measurement can be defined as QTc interval length at single point registration (rarely reported time of a day) or mean from several time points. Similarly, reported QTc values were derived in various way, e.g. maximal and/or average of individual QTc values at defined time point after drug application, maximal and/or average of individual QTc values over several hours following last day of drug application [
152
]. Finally, in some cases, reader can be confused about the true value of the reported endpoints, while there are different values reported in the tables and in the text or graph. Nevertheless, DDIs' role was clearly shown in the retrospective analyses done by multiple authors. Haugaa and colleagues correlated QT-related mortality with multiple factors and found that number of QT-prolonging medications was a significant predictor of death [
153
]. Similar results were observed in DeBruin study where the risk of cardiac arrest was more pronounced in patients receiving more than 1 QT-prolonging drug simultaneously [
154
]. The collation of studies identified for this overview suggest the need for assessment of an additional risk factors for proarrhythmia as there are examples where pharmacokinetic changes do not contribute substantially to QTc interval prolongation and plasma concentrations are not correlated with observed electrophysiological effects (Fig.
2
). Careful ECG monitoring before administration of drug combinations with anticipated QT prolongation, especially with concomitant risk factors, has been suggested in many of the reports. However, there are some concerns on monitoring cost effectiveness [
155
].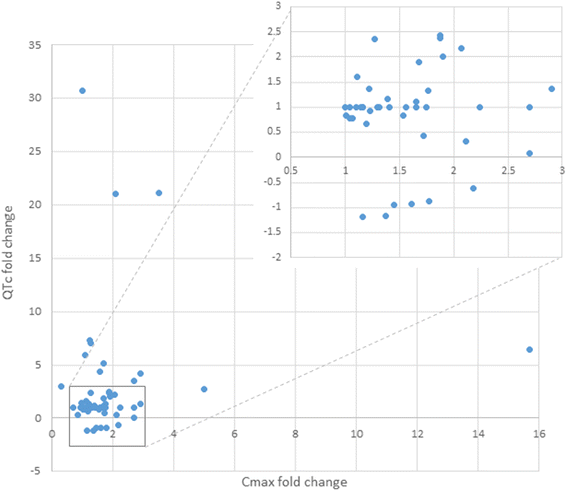 Moreover, it can be safely assumed that the list of studies presented in the current publication covers just small number of potential combinations and additionally the incidence of the life threatening situations is low therefore it is quite likely that clinical trials with their current methodology cannot offer the expected power. Also, in case of elderly, multimorbid, or critically ill patients undergoing polytherapy the DDI risk is substantially increased, while such scenario testing is barely feasible, if not impossible at all and can be only analyzed retrospectively [156]. One of the possible ways of thorough data analysis is a traditional "top-down" PK/PD modeling and simulation (M&S). In such approach empirical or descriptive models are utilized to describe the linkage between drug concentration and observed clinical response including cardiovascular biomarkers [157]. There are multiple examples of studies utilizing such approach for DDI assessment [158], although there are just few where PK/PD type of analysis was utilized for the assessment of QT modification triggered by the combination of drugs [159]. There are examples of successful implementation of nonlinear mixed-effects PK/PD models and Bayesian methods. Such approach can be especially useful when there is either limited or noised dataset. Prior distributions for the model parameters derived from previous single drug studies can improve predictivity and model quality [160].
It all suggests the need for a system of early prediction of the potential DDI clinical consequences. To the authors' best knowledge there is no established in vitro methodology offering such possibilities therefore potential solution lays in the proper use of the in silico based methods. This proposition can be supported by the recent wide incorporation of the in silico realized in vitro – in vivo extrapolation approach to the assessment of the clinical role of drug – drug interactions [161, 162]. Recently discussed drug cardiac safety assessment paradigm change includes wide use of mathematical models of human heart cells. This fact allows us to suggest that after proper validation such methods could be also applied for the fast and cost-effective DDI consequences assessment which cannot be done in the traditional way due to the multiple obstacles.
Abbreviations
AUC:

Area under the plasma drug concentration-time curve
Cmax :

Maximal plasma concentration
DDI:

Drug-drug interaction
ECG:

Electrocardiogram
AERS:

Adverse Event Reporting System
ICH:

International Conference on Harmonization
LQTS:

Long QT syndrome
PD:

Pharmacodynamics
PK:

Pharmacokinetics
QTc:

QT interval corrected for the heart rate
TdP:

Torsades de pointes
Declarations
Acknowledgement
This work was supported by Polish National Science Center [DEC-2013/11/D/NZ7/01583].
Open AccessThis article is distributed under the terms of the Creative Commons Attribution 4.0 International License (http://creativecommons.org/licenses/by/4.0/), which permits unrestricted use, distribution, and reproduction in any medium, provided you give appropriate credit to the original author(s) and the source, provide a link to the Creative Commons license, and indicate if changes were made. The Creative Commons Public Domain Dedication waiver (http://creativecommons.org/publicdomain/zero/1.0/) applies to the data made available in this article, unless otherwise stated.
Authors' Affiliations
(1)
Unit of Pharmacoepidemiology and Pharmacoeconomics, Department of Social Pharmacy, Faculty of Pharmacy, Jagiellonian University Medical College, Krakow, Poland
(2)
Department of Pharmaceutical Technology and Biopharmaceutics, Faculty of Pharmacy, Medical College, Jagiellonian University, Kraków, Poland
(3)
Simcyp Ltd. (part of Certara), Blades Enterprise Centre, Sheffield, UK