Research article

Open Access

Open Peer Review
This article has Open Peer Review reports available.
Skin sensitizers differentially regulate signaling pathways in MUTZ-3 cells in relation to their individual potency
BMC Pharmacology and Toxicology
2014
15:5
Received: 11 July 2013
Accepted: 27 January 2014
Published: 11 February 2014
Abstract
Background
Due to the recent European legislations posing a ban of animal tests for safety assessment within the cosmetic industry, development of in vitro alternatives for assessment of skin sensitization is highly prioritized. To date, proposed in vitro assays are mainly based on single biomarkers, which so far have not been able to classify and stratify chemicals into subgroups, related to risk or potency.
Methods
Recently, we presented the Genomic Allergen Rapid Detection (GARD) assay for assessment of chemical sensitizers. In this paper, we show how the genome wide readout of GARD can be expanded and used to identify differentially regulated pathways relating to individual chemical sensitizers. In this study, we investigated the mechanisms of action of a range of skin sensitizers through pathway identification, pathway classification and transcription factor analysis and related this to the reactive mechanisms and potency of the sensitizing agents.
Results
By transcriptional profiling of chemically stimulated MUTZ-3 cells, 33 canonical pathways intimately involved in sensitization to chemical substances were identified. The results showed that metabolic processes, cell cycling and oxidative stress responses are the key events activated during skin sensitization, and that these functions are engaged differently depending on the reactivity mechanisms of the sensitizing agent. Furthermore, the results indicate that the chemical reactivity groups seem to gradually engage more pathways and more molecules in each pathway with increasing sensitizing potency of the chemical used for stimulation. Also, a switch in gene regulation from up to down regulation, with increasing potency, was seen both in genes involved in metabolic functions and cell cycling. These observed pathway patterns were clearly reflected in the regulatory elements identified to drive these processes, where 33 regulatory elements have been proposed for further analysis.
Conclusions
This study demonstrates that functional analysis of biomarkers identified from our genomics study of human MUTZ-3 cells can be used to assess sensitizing potency of chemicals in vitro, by the identification of key cellular events, such as metabolic and cell cycling pathways.
Keywords
Pathways in skin sensitization
Skin sensitizer
in vitro assay
Signaling pathways
Metabolic pathways
Background
Allergic contact dermatitis (ACD) is an inflammatory skin disease characterized by eczema and recurrent episodes of itching [1]. Hundreds of chemicals are known to cause skin sensitization, making ACD the most common immunotoxic condition in humans. ACD affects a significant proportion of the population. In a recent populations-based investigation, it was demonstrated that the prevalence of ACD is increasing, from 7.2% to 12.9% in the study population [2]. According to the REACH (Registration, Evaluation, and Authorization of Chemicals) regulation [3], chemicals within the EU that are produced or imported (>1 ton/year) must be tested for human hazardous effects. Historically, new chemicals have been tested on animals. For cosmetic ingredients, animal testing is now prohibited [4], even if validated alternative assays are unavailable.
The Local Lymph Node Assay (LLNA) [5], which is currently the gold standard in hazard classification for sensitization, has been shown to have an accuracy of prediction of 72% relative to human data, the same as for the Guinea Pig Maximization Test (GPMT) [6]. Taken together, the ethical aspects of animal testing, the need for monitoring of hazardous effects and the discrepancy between animal and human immune mechanisms makes the need for in vitro tests urgent.
Recently, we presented an in vitro test, Genomic Allergen Rapid Detection (GARD), based on MUTZ-3 cells [7, 8], that was able to accurately classify compounds as sensitizers or non-sensitizers, using a genomic biomarker signature [9, 10]. Furthermore, we reported that sensitizers induced a heterogeneous transcriptional response in MUTZ-3 cells, indicating that different sensitizers affect different pathways. The OECD guidelines on adverse outcome pathways [11] attempts to summarize the biochemical pathways that are associated with skin sensitization, listing the activation of inflammation and cellular stress related pathways as critical events. However, transcriptional data from MUTZ-3 cells indicate that the regulation of biochemical pathways might be more diverse than previously described. This led us to further investigate the signaling pathways in relationship to the chemical reactivity properties of each individual skin sensitizer. Consequently, the aim of the current study was to identify adverse outcome pathways associated with different sensitizers, stratified into various chemical reactivity groups, in order to enhance the understanding of the skin sensitization processes in relation to sensitizer potency.
Methods
Transcriptional data set
A panel of 40 chemical compounds, consisting of 20 sensitizers and 20 non-sensitizers were used for cell stimulations of the human myeloid leukemia-derived cell line MUTZ-3 (DSMZ, Braunschweig, Germany), as detailed earlier in [
10
]. RNA was isolated, processed to cDNA and hybridized to microarrays (Affymetrix®, Santa Clara, CA) [
12
]. In short, RNA from un-stimulated and chemically stimulated MUTZ-3 cells, from triplicate experiments, were extracted and analyzed. The preparation of labeled sense DNA was performed, according to Affymetrix® GeneChip® Whole Transcript (WT) Sense Target Labeling Assay (100 ng Total RNA Labeling Protocol), using the recommended kits and controls (Affymetrix®). Hybridization, washing and scanning of the Human Gene 1.0 ST Arrays were performed according to the manufacturer's protocol (Affymetrix®). 18 of the 20 sensitizing chemicals [
13
–
18
] passed QC test after array analysis and were subsequently used for functional analysis (Figure
1
). The complete data set consisting of 137 samples has been deposited to ArrayExpress with the accession number [E-MTAB-670].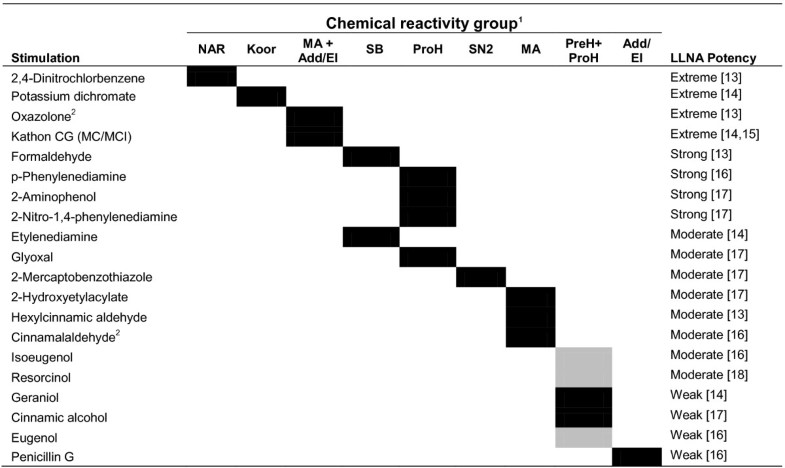 Microarray data analysis and statistical methods
The microarray data set was normalized and quality checked, using the RMA algorithm in the Affymetrix® Expression Console software (Affymetrix®). Sensitizers were assigned to at least one of the following chemical reactivity mechanisms; addition/elimination to carboxylic acid derivatives (Add/El), coordination bonds (Koor), Michael addition or 1,4-addition to a/b unsaturated carbonyl (MA), nucleophilic aromatic substitution (NAR), Schiff's base reaction (SB), biomolecular nucleophilic substitution (SN2), Prehapten (PreH) and Prohapten (ProH). In the present cohort of sensitizers, 9 different groups of chemical reactivity combinations were identified, as shown in Figure 1. The 9 reactivity groups were statistically tested against a pool of non-sensitizing stimulations and vehicle controls (83 samples in total), using ANOVA. The top 1000 genes from each statistical test were identified, and the significance level at which these top genes were found was recorded. All filtering and statistical tests were performed in Qlucore Omics Explorer 2.3 (QOE; Qlucore AB, Lund, Sweden).
Functional analysis of chemical reactivity groups in IPA®
Each of the 9 gene lists identified with statistical testing was used as input in Ingenuity Pathways Analysis ver. 12710793, as of June 2012 (IPA®; Ingenuity Systems Inc., Redwood City, CA), using fold change and p-values as decision values for significance and enrichment calculations. For each data set the significant canonical pathways, significant transcription regulators and cellular functions identified by IPA® Core Analysis of Human data using default settings were exported and analyzed further in QOE. Hierarchical Cluster Analysis (HCA) was performed using non-normalized data with maximum linkage.
Pathway annotation and grouping for assessment of biological functions
All pathways were named according to the terminology used by IPA®. In addition to pathway names, we also grouped pathways into functional groups, according to the grouping used by IPA® (apoptosis signaling, cell cycle regulation etc.) with all pathways being classified as either signaling or metabolic pathways or both. When a pathway was ambiguously assigned we chose the first listing, according to alphabetical order. Findings were confirmed, using MetaCore™ (Thomson Reuters, NY).
Availability of supporting data
The microarray data set used was deposited at ArrayExpress with the accession number [E-MTAB-670].
Conclusions
In the present transcriptional profiling study, we have shown that skin sensitizers trigger a large number of signaling and metabolic pathways in MUTZ-3 cells. Among these, we found examples of well-known pathways, as well as pathways previously not described in relation to chemical sensitization. Importantly, a majority of the pathways described show a clear correlation with both chemical reactivity and sensitizing potency.
The strongest correlation between pathway usage and potency is found in the cell cycle, nucleotide metabolism and cancer pathways. As these groupings are obviously rather arbitrary it is probably more correct to say that functions involving cell cycle regulation and cell cycle control both in healthy and diseased conditions correlate very well with chemical potency. Nucleotide metabolism is tightly connected to the cell cycle and consequently a down regulation of nucleotide metabolism in parallel to a down regulation of cell cycle functions is expected. The apoptosis pathway Aryl Hydrocarbon Receptor signaling is a novel finding with regard to potency prediction. This pathway is among the highly regulated ones but still shows a decrease in activity with decrease in potency.
Finally, transcription regulation of the sensitization process was investigated, by prediction of activation and inhibition of upstream regulators. A network of regulatory elements that seemed to be generally involved was identified. These seemed to be centered on the transcription regulator MYC and the miRNA let-7.
The presented results have implications for the design of predictive in vitro test for assessment of sensitization potency. Few chemicals appear to induce identical responses in vitro, indicating that excessively simplistic assays will fail to correctly classify unknown samples. Subdivisions among sensitizers, by reactive domain or otherwise, should be considered with caution and predictive models should be trained accordingly. In brief, we demonstrate for the first time that genomic approaches contain valuable mechanistic information associated with potency assessment of chemicals, which is in line with the current demand of evidence based toxicology.
Abbreviations
ACD:

Allergic contact dermatitis
Add/El:

Addition/elimination to carboxylic acid derivatives
AHR:

Aryl Hydrocarbon Receptor
HCA:

Hierarchical cluster analysis
Koor:

Coordination bonds
LLNA:

Local Lymph Node Assay
MA:

Michael addition or 1,4-Addition to a/b unsaturated carbonyl
NAR:

Nucleophilic aromatic substitution
PCA:

Principal component analysis
PreH Prehapten:

Chemical activation (outside the skin)
ProH Prohapten:

Enzymatic activation
SB:

Schiff's Base reaction
SN2:

Bimolecular nucleophilic substitution.
Declarations
Acknowledgements
This work was supported by grants from the Swedish Fund for Research Without Animal Experiments, Faculty of Engineering (LTH), the Swedish Research Council, Swedish Research Council Formas and the European Commission as part of the Integrated project 'Novel Testing Strategies for in vitro Assessment of Allergens; Sens-it-iv'. We would like to thank Ann-Charlott Olsson for excellent technical support and microarray sample preparation.
Authors' Affiliations
(1)
Department of Immunotechnology, Lund University, Lund, Sweden
(2)
Department of Chemistry and Molecular Biology, Dermatochemistry and Skin Allergy, University of Gothenburg, Gothenburg, Sweden
Copyright
© Albrekt et al.; licensee BioMed Central Ltd. 2014
This article is published under license to BioMed Central Ltd. This is an open access article distributed under the terms of the Creative Commons Attribution License (http://creativecommons.org/licenses/by/2.0), which permits unrestricted use, distribution, and reproduction in any medium, provided the original work is properly cited.