Review

Open Access

Open Peer Review
This article has Open Peer Review reports available.
The grass isn't always greener: The effects of cannabis on embryological development
BMC Pharmacology and Toxicology
BMC series – open, inclusive and trusted
2016
17:45
Received: 28 July 2015
Accepted: 24 August 2016
Published: 29 September 2016
Abstract
With the increasing publicity of marijuana due to recent legislation, it is pertinent that the effects of fetal exposure to the drug are assessed. While in utero cannabis exposure has been associated with early pregnancy failure, birth defects and developmental delay, the mechanisms of such outcomes are largely unexplained. Furthermore, the use of cannabinoids in cancer treatment via growth inhibition and apoptosis may indicate how cannabis exposure likely harms a growing fetus. Cannabinoid signaling is required for proper pre-implantation development, embryo transport to the uterus, and uterine receptivity during implantation. In post-implantation development, cannabinoid signaling functions in a multitude of pathways, including, but not limited to, folic acid, VEGF, PCNA, MAPK/ERK, and BDNF. Disrupting the normal activity of these pathways can significantly alter many vital in utero processes, including angiogenesis, cellular replication, tissue differentiation, and neural cognitive development. This paper aims to demonstrate the effects of cannabis exposure on a developing embryo in order to provide a molecular explanation for the adverse outcomes associated with cannabis use during pregnancy.
Keywords
Cannabis
Pregnancy
Folic acid
Pre-implantation
Metabolism
Neurogenesis
Angiogenesis
Background
It has long been established that smoking tobacco during pregnancy causes increased risk of miscarriage, increased placental problems, reduction of birth weight, and a variety of birth defects [1]. In light of the recent legalization of marijuana in Colorado, Washington, Alaska and Washington, D.C., we felt it important to establish and publicize the causative relationship between cannabis usage and embryological outcomes. The main psychoactive cannabinoid in marijuana is delta-9-tetrahydrocannabinol (THC), which has a half-life of approximately 8 days in fat deposits and can be detected in blood for up to 30 days before becoming entirely eliminated from the blood [2]. These characteristics act as a direct risk factor to the developing embryo, as the maternal tissues act as reservoirs for THC and other cannabinoids.
Certain drugs cross the placenta to reach the embryo in the same manner as oxygen and other nutrients [3]. Drugs consumed during pregnancy can act directly on the embryo, or they can alter placental function, which is critical for normal growth and development. Ingestion of drugs can interfere with these functions, resulting in compromised fetal development and growth [3]. THC readily crosses the placenta, which, in conjunction with slow fetal clearance, results in prolonged fetal exposure to THC, even after consumption is discontinued [2].
The use of marijuana in early pregnancy is associated with many of the same risks as tobacco, including miscarriage, congenital malformations, and learning disabilities [
4
]. Adverse effects of marijuana use during pregnancy have been exacerbated over the years, as THC levels in marijuana have increased nearly 25-fold since 1970 [
5
]. This paper looks to examine recent studies on cannabinoids and embryonic development in order to establish the mechanisms through which these cannabinoids act. A full overview of these mechanisms and downstream effects are provided in Fig.
1
and Table
1
.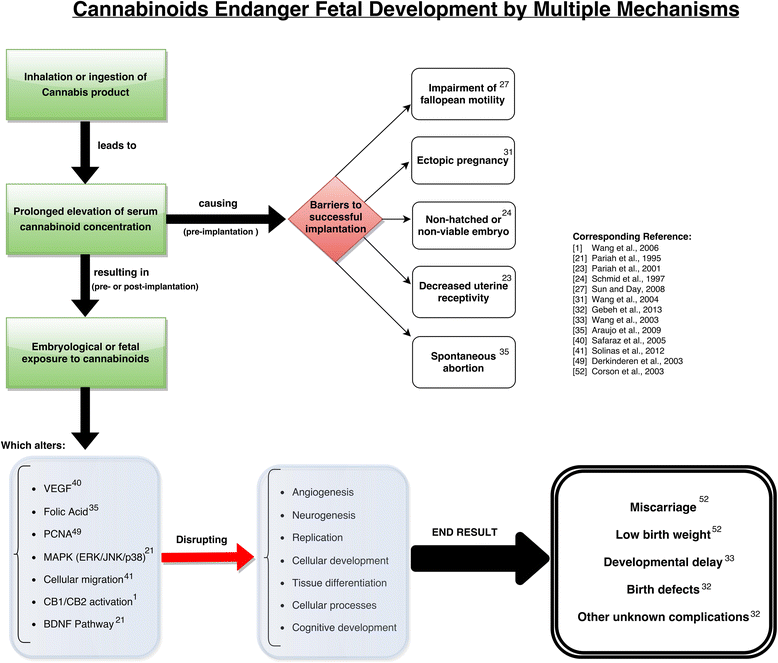 Table 1
A summary table of cannabinoid effects on various cellular processes
| Specific Protein or Process | Effect of Cannabinoid on Protein or Process | Downstream Effect | Study Method | Study |
| --- | --- | --- | --- | --- |
| Angiogenic proteins | Administration of the cannabinoid JWH altered the expression of 10 genes which are all directly or indirectly related to the VEGF pathway | Disruption of normal angiogenesis | In vivo. Mice bearing s.c. gliomas injected with JWH | Blazquez et al., 2004. [36] |
| Apoptosis (Epithelial tumor) | Treatment of PDV.C57 cells with the cannabinoid WIN induces apoptosis | Premature cellular death | In vitro. Treatment of skin tumor cells with WIN | Casanova et al., 2003. [43] |
| Apoptosis (HUVEC) | Cannabinoid-induced HUVEC death occurred by apoptosis | Premature cellular death | In vitro. HUVEC cells treated with WIN | Blazquez et al., 2003. [42] |
| Cellular Migration | Cannabidiol treatments causes a decrease in cell migration in a concentration dependent manner. | Reduced cellular migration, possible impairment of cellular differentiation | In vivo and In vitro. Cannabidiol treatment of HUVEC cells and treatment of C57/BL6 mice | Solinas et al., 2012. [41] |
| Ceremides | The ceramide-dependent cannabinoid-induced inhibition of VEGFR-2 activation is found in cultured glioma cells | Disruption of cellular messaging | In vitro. Mice bearing s.c. gliomas injected with JWH and WIN | Blazquez et al., 2004. [36] |
| Folic acid | Chronic Cannabidiol consumption results in a decrease in folic acid uptake, while acute Cannabidiol consumption results in no effect on folic acid uptake | Disruption of DNA replication, possible neural tube defects | In vitro. Cannabidiol treatment of BeWo cells incubated with folic acid | Araújo et al., 2009. [35] |
| PCNA | Treatment of LNCaP cells with the cannabinoid WIN results in a significant decrease in protein expression of PCNA in a dose dependent manner. | Disruption of DNA replication | In vitro. LNCaP cancer cells treated with WIN | Sarfaraz et al., 2005. [40] |
| VEGF | Cannabidiol significantly inhibits the VEGF induced outgrowth of capillary-like structures | Disruption of normal angiogenesis | In vitro. Inhibition of the in-vitro angiogenesis in HUVEC Cells | Solinas et al., 2012. [41] |
Conclusions
Under normal physiologic conditions, cannabinoid signaling exhibits a wide-range of downstream effects embryologically, as is illustrated by Fig. 1. This breadth of action ultimately manifests in the symptoms associated with cannabis use during pregnancy, including miscarriage, congenital malformations, and learning disabilities [1]. Cannabinoids have received renewed attention in the field of cancer treatment due to their pharmacologic activities in vivo as cell growth inhibitors, restrictors of cellular motility, and their ability to induce apoptosis across multiple cell lineages [40, 41]. However, by the same mechanisms that cannabinoids show promise in the field of cancer treatment, they prove equally dangerous to the viability and health of a developing embryo. A summary of these mechanisms is provided in Table 1.
The effects of cannabinoids on pre-implantation and embryologic development have the potential to elicit harmful outcomes post-natally. While the method of consumption can affect the severity of the embryologic effects, it is important to note that this paper is an overview of the effects solely of elevated cannabinoid signaling. A common means of cannabis consumption is smoking, which can add a number of toxins and thereby amplify harmful effects to the embryo. Given the trend of marijuana decriminalization and legalization across the United States, further epidemiological research should focus on the association between maternal cannabinoid use and observation post-natal outcome.
Declarations
Acknowledgements
The authors would like to thank Dr. Ian Gallicano for his support as we navigate the publication process.
Funding
No funding was provided or sought.
Availability of data and materials
No proprietary data was accessed or generated in the creation of this manuscript. At the time of manuscript submission, all sources are online and available.
Authors' contributions
All authors contributed significantly and equally to this manuscript. All authors read and approved the final manuscript.
Authors' information
JF, DK, KP, and AS are students in the Doctorate of Medicine program at Georgetown University. IG is an Associate Professor of Biochemistry and Molecular and Cellular Biology at Georgetown University.
Competing interests
The authors declare that they have no competing interests.
Consent for publication
Not applicable.
Ethics approval and consent to participate
Not applicable.
Open AccessThis article is distributed under the terms of the Creative Commons Attribution 4.0 International License (http://creativecommons.org/licenses/by/4.0/), which permits unrestricted use, distribution, and reproduction in any medium, provided you give appropriate credit to the original author(s) and the source, provide a link to the Creative Commons license, and indicate if changes were made. The Creative Commons Public Domain Dedication waiver (http://creativecommons.org/publicdomain/zero/1.0/) applies to the data made available in this article, unless otherwise stated.
Authors' Affiliations
(1)
Department of Biochemistry and Molecular & Cellular biology, Georgetown University Medical Center, Washington DC, USA